Ramdam Festival 2015
Publié par , le 12 janvier 2015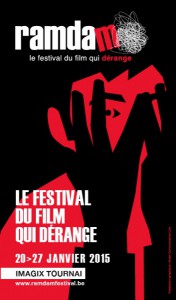 La cinquième édition du Ramdam, festival du film qui dérange, se tiendra du 20 au 27 janvier 2015 à Imagix Tournai.
Au programme, des films d'aujourd'hui, mais aussi d'hier, reflétant le monde d'ici et d'ailleurs et disant, dans toutes les langues, quelque chose de la marche de l'humanité qu'il est urgent d'entendre, de voir… et de ne pas oublier.
Également au programme, des courts-métrages, des rétrospectives, des documentaires, des ateliers, des ciné-clubs et des invités comme les frères Dardenne qui viendront présenter leur film « 2 jours, une nuit » dans la catégorie Ramdam de l'année.
Quelques films qui seront présentés :
The Dark Horse de James Napier Robertson
The Voices de Marjane Satrapi
Melody de Bernard Bellefroid
Blind d'Eskil Vogt
Etc..
Infos et reservation : ICI
Evaluez cet article :

Warning: count(): Parameter must be an array or an object that implements Countable in /customers/7/d/6/lebourlingueurdu.net/httpd.www/wp-content/plugins/the-events-calendar/common/src/Tribe/Customizer/Section.php on line 204 Warning: count(): Parameter must be an array or an object that implements Countable in /customers/7/d/6/lebourlingueurdu.net/httpd.www/wp-content/plugins/the-events-calendar/common/src/Tribe/Customizer/Section.php on line 204 Warning: count(): Parameter must be an array or an object that implements Countable in /customers/7/d/6/lebourlingueurdu.net/httpd.www/wp-content/plugins/the-events-calendar/common/src/Tribe/Customizer/Section.php on line 204 Warning: count(): Parameter must be an array or an object that implements Countable in /customers/7/d/6/lebourlingueurdu.net/httpd.www/wp-content/plugins/the-events-calendar/common/src/Tribe/Customizer/Section.php on line 204 Warning: count(): Parameter must be an array or an object that implements Countable in /customers/7/d/6/lebourlingueurdu.net/httpd.www/wp-content/plugins/the-events-calendar/common/src/Tribe/Customizer/Section.php on line 204 Warning: count(): Parameter must be an array or an object that implements Countable in /customers/7/d/6/lebourlingueurdu.net/httpd.www/wp-content/plugins/the-events-calendar/common/src/Tribe/Customizer/Section.php on line 204 Warning: count(): Parameter must be an array or an object that implements Countable in /customers/7/d/6/lebourlingueurdu.net/httpd.www/wp-content/plugins/the-events-calendar/common/src/Tribe/Customizer/Section.php on line 204 Warning: count(): Parameter must be an array or an object that implements Countable in /customers/7/d/6/lebourlingueurdu.net/httpd.www/wp-content/plugins/the-events-calendar/common/src/Tribe/Customizer/Section.php on line 204 Warning: count(): Parameter must be an array or an object that implements Countable in /customers/7/d/6/lebourlingueurdu.net/httpd.www/wp-content/plugins/the-events-calendar/common/src/Tribe/Customizer/Section.php on line 204 Warning: count(): Parameter must be an array or an object that implements Countable in /customers/7/d/6/lebourlingueurdu.net/httpd.www/wp-content/plugins/the-events-calendar/common/src/Tribe/Customizer/Section.php on line 204 Warning: count(): Parameter must be an array or an object that implements Countable in /customers/7/d/6/lebourlingueurdu.net/httpd.www/wp-content/plugins/the-events-calendar/common/src/Tribe/Customizer/Section.php on line 204 Warning: count(): Parameter must be an array or an object that implements Countable in /customers/7/d/6/lebourlingueurdu.net/httpd.www/wp-content/plugins/the-events-calendar/common/src/Tribe/Customizer/Section.php on line 204 Warning: count(): Parameter must be an array or an object that implements Countable in /customers/7/d/6/lebourlingueurdu.net/httpd.www/wp-content/plugins/the-events-calendar/common/src/Tribe/Customizer/Section.php on line 204 Warning: count(): Parameter must be an array or an object that implements Countable in /customers/7/d/6/lebourlingueurdu.net/httpd.www/wp-content/plugins/the-events-calendar/common/src/Tribe/Customizer/Section.php on line 204 Warning: count(): Parameter must be an array or an object that implements Countable in /customers/7/d/6/lebourlingueurdu.net/httpd.www/wp-content/plugins/the-events-calendar/common/src/Tribe/Customizer/Section.php on line 204 Warning: count(): Parameter must be an array or an object that implements Countable in /customers/7/d/6/lebourlingueurdu.net/httpd.www/wp-content/plugins/the-events-calendar/common/src/Tribe/Customizer/Section.php on line 204 Warning: count(): Parameter must be an array or an object that implements Countable in /customers/7/d/6/lebourlingueurdu.net/httpd.www/wp-content/plugins/the-events-calendar/common/src/Tribe/Customizer/Section.php on line 204 Warning: count(): Parameter must be an array or an object that implements Countable in /customers/7/d/6/lebourlingueurdu.net/httpd.www/wp-content/plugins/the-events-calendar/common/src/Tribe/Customizer/Section.php on line 204 Warning: count(): Parameter must be an array or an object that implements Countable in /customers/7/d/6/lebourlingueurdu.net/httpd.www/wp-content/plugins/the-events-calendar/common/src/Tribe/Customizer/Section.php on line 204 Warning: count(): Parameter must be an array or an object that implements Countable in /customers/7/d/6/lebourlingueurdu.net/httpd.www/wp-content/plugins/the-events-calendar/common/src/Tribe/Customizer/Section.php on line 204 Warning: count(): Parameter must be an array or an object that implements Countable in /customers/7/d/6/lebourlingueurdu.net/httpd.www/wp-content/plugins/the-events-calendar/common/src/Tribe/Customizer/Section.php on line 204 Warning: count(): Parameter must be an array or an object that implements Countable in /customers/7/d/6/lebourlingueurdu.net/httpd.www/wp-content/plugins/the-events-calendar/common/src/Tribe/Customizer/Section.php on line 204 Warning: count(): Parameter must be an array or an object that implements Countable in /customers/7/d/6/lebourlingueurdu.net/httpd.www/wp-content/plugins/the-events-calendar/common/src/Tribe/Customizer/Section.php on line 204 Warning: count(): Parameter must be an array or an object that implements Countable in /customers/7/d/6/lebourlingueurdu.net/httpd.www/wp-content/plugins/the-events-calendar/common/src/Tribe/Customizer/Section.php on line 204 Warning: count(): Parameter must be an array or an object that implements Countable in /customers/7/d/6/lebourlingueurdu.net/httpd.www/wp-content/plugins/the-events-calendar/common/src/Tribe/Customizer/Section.php on line 204 Warning: count(): Parameter must be an array or an object that implements Countable in /customers/7/d/6/lebourlingueurdu.net/httpd.www/wp-content/plugins/the-events-calendar/common/src/Tribe/Customizer/Section.php on line 204 Warning: count(): Parameter must be an array or an object that implements Countable in /customers/7/d/6/lebourlingueurdu.net/httpd.www/wp-content/plugins/the-events-calendar/common/src/Tribe/Customizer/Section.php on line 204 Warning: count(): Parameter must be an array or an object that implements Countable in /customers/7/d/6/lebourlingueurdu.net/httpd.www/wp-content/plugins/the-events-calendar/common/src/Tribe/Customizer/Section.php on line 204 Warning: count(): Parameter must be an array or an object that implements Countable in /customers/7/d/6/lebourlingueurdu.net/httpd.www/wp-content/plugins/the-events-calendar/common/src/Tribe/Customizer/Section.php on line 204 Warning: count(): Parameter must be an array or an object that implements Countable in /customers/7/d/6/lebourlingueurdu.net/httpd.www/wp-content/plugins/the-events-calendar/common/src/Tribe/Customizer/Section.php on line 204 Warning: count(): Parameter must be an array or an object that implements Countable in /customers/7/d/6/lebourlingueurdu.net/httpd.www/wp-content/plugins/the-events-calendar/common/src/Tribe/Customizer/Section.php on line 204 Warning: count(): Parameter must be an array or an object that implements Countable in /customers/7/d/6/lebourlingueurdu.net/httpd.www/wp-content/plugins/the-events-calendar/common/src/Tribe/Customizer/Section.php on line 204 Warning: count(): Parameter must be an array or an object that implements Countable in /customers/7/d/6/lebourlingueurdu.net/httpd.www/wp-content/plugins/the-events-calendar/common/src/Tribe/Customizer/Section.php on line 204 Warning: count(): Parameter must be an array or an object that implements Countable in /customers/7/d/6/lebourlingueurdu.net/httpd.www/wp-content/plugins/the-events-calendar/common/src/Tribe/Customizer/Section.php on line 204 Warning: count(): Parameter must be an array or an object that implements Countable in /customers/7/d/6/lebourlingueurdu.net/httpd.www/wp-content/plugins/the-events-calendar/common/src/Tribe/Customizer/Section.php on line 204 Warning: count(): Parameter must be an array or an object that implements Countable in /customers/7/d/6/lebourlingueurdu.net/httpd.www/wp-content/plugins/the-events-calendar/common/src/Tribe/Customizer/Section.php on line 204 Warning: count(): Parameter must be an array or an object that implements Countable in /customers/7/d/6/lebourlingueurdu.net/httpd.www/wp-content/plugins/the-events-calendar/common/src/Tribe/Customizer/Section.php on line 204 Warning: count(): Parameter must be an array or an object that implements Countable in /customers/7/d/6/lebourlingueurdu.net/httpd.www/wp-content/plugins/the-events-calendar/common/src/Tribe/Customizer/Section.php on line 204 Warning: count(): Parameter must be an array or an object that implements Countable in /customers/7/d/6/lebourlingueurdu.net/httpd.www/wp-content/plugins/the-events-calendar/common/src/Tribe/Customizer/Section.php on line 204 Warning: count(): Parameter must be an array or an object that implements Countable in /customers/7/d/6/lebourlingueurdu.net/httpd.www/wp-content/plugins/the-events-calendar/common/src/Tribe/Customizer/Section.php on line 204 Warning: count(): Parameter must be an array or an object that implements Countable in /customers/7/d/6/lebourlingueurdu.net/httpd.www/wp-content/plugins/the-events-calendar/common/src/Tribe/Customizer/Section.php on line 204 Warning: count(): Parameter must be an array or an object that implements Countable in /customers/7/d/6/lebourlingueurdu.net/httpd.www/wp-content/plugins/the-events-calendar/common/src/Tribe/Customizer/Section.php on line 204 Warning: count(): Parameter must be an array or an object that implements Countable in /customers/7/d/6/lebourlingueurdu.net/httpd.www/wp-content/plugins/the-events-calendar/common/src/Tribe/Customizer/Section.php on line 204 Warning: count(): Parameter must be an array or an object that implements Countable in /customers/7/d/6/lebourlingueurdu.net/httpd.www/wp-content/plugins/the-events-calendar/common/src/Tribe/Customizer/Section.php on line 204 Warning: count(): Parameter must be an array or an object that implements Countable in /customers/7/d/6/lebourlingueurdu.net/httpd.www/wp-content/plugins/the-events-calendar/common/src/Tribe/Customizer/Section.php on line 204 Warning: count(): Parameter must be an array or an object that implements Countable in /customers/7/d/6/lebourlingueurdu.net/httpd.www/wp-content/plugins/the-events-calendar/common/src/Tribe/Customizer/Section.php on line 204 Warning: count(): Parameter must be an array or an object that implements Countable in /customers/7/d/6/lebourlingueurdu.net/httpd.www/wp-content/plugins/the-events-calendar/common/src/Tribe/Customizer/Section.php on line 204 Warning: count(): Parameter must be an array or an object that implements Countable in /customers/7/d/6/lebourlingueurdu.net/httpd.www/wp-content/plugins/the-events-calendar/common/src/Tribe/Customizer/Section.php on line 204 Warning: count(): Parameter must be an array or an object that implements Countable in /customers/7/d/6/lebourlingueurdu.net/httpd.www/wp-content/plugins/the-events-calendar/common/src/Tribe/Customizer/Section.php on line 204 Warning: count(): Parameter must be an array or an object that implements Countable in /customers/7/d/6/lebourlingueurdu.net/httpd.www/wp-content/plugins/the-events-calendar/common/src/Tribe/Customizer/Section.php on line 204 Warning: count(): Parameter must be an array or an object that implements Countable in /customers/7/d/6/lebourlingueurdu.net/httpd.www/wp-content/plugins/the-events-calendar/common/src/Tribe/Customizer/Section.php on line 204 Warning: count(): Parameter must be an array or an object that implements Countable in /customers/7/d/6/lebourlingueurdu.net/httpd.www/wp-content/plugins/the-events-calendar/common/src/Tribe/Customizer/Section.php on line 204 Warning: count(): Parameter must be an array or an object that implements Countable in /customers/7/d/6/lebourlingueurdu.net/httpd.www/wp-content/plugins/the-events-calendar/common/src/Tribe/Customizer/Section.php on line 204 Warning: count(): Parameter must be an array or an object that implements Countable in /customers/7/d/6/lebourlingueurdu.net/httpd.www/wp-content/plugins/the-events-calendar/common/src/Tribe/Customizer/Section.php on line 204 Warning: count(): Parameter must be an array or an object that implements Countable in /customers/7/d/6/lebourlingueurdu.net/httpd.www/wp-content/plugins/the-events-calendar/common/src/Tribe/Customizer/Section.php on line 204 Warning: count(): Parameter must be an array or an object that implements Countable in /customers/7/d/6/lebourlingueurdu.net/httpd.www/wp-content/plugins/the-events-calendar/common/src/Tribe/Customizer/Section.php on line 204 Warning: count(): Parameter must be an array or an object that implements Countable in /customers/7/d/6/lebourlingueurdu.net/httpd.www/wp-content/plugins/the-events-calendar/common/src/Tribe/Customizer/Section.php on line 204 Warning: count(): Parameter must be an array or an object that implements Countable in /customers/7/d/6/lebourlingueurdu.net/httpd.www/wp-content/plugins/the-events-calendar/common/src/Tribe/Customizer/Section.php on line 204 Warning: count(): Parameter must be an array or an object that implements Countable in /customers/7/d/6/lebourlingueurdu.net/httpd.www/wp-content/plugins/the-events-calendar/common/src/Tribe/Customizer/Section.php on line 204 Warning: count(): Parameter must be an array or an object that implements Countable in /customers/7/d/6/lebourlingueurdu.net/httpd.www/wp-content/plugins/the-events-calendar/common/src/Tribe/Customizer/Section.php on line 204