Dario Mars and the Guillotines, une aventure à vous couper le souffle.
Publié par Piasecki Jeremie, le 31 août 2015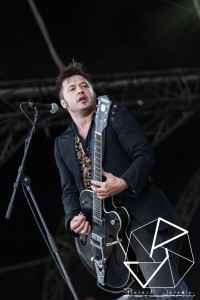 Imaginez une piste sonore parfaite pour un film français en noir et blanc des années 60. Dario Mars and the Guillotines, bien de chez nous, a envouté l'esprit des festivaliers le temps d'un instant sur la scène du Ronquières Festival. L'occasion pour nous d'en savoir un peu plus à leur sujet…
Bonjour, pouvez-vous nous dire qui sont les Dario Mars and the Guillotines?
Nous sommes 4 passionnés de musique, qui viennent d'univers complètement variés, d'origines différentes, que ce soit au niveau de nos vies culturelles que de notre environnement musical et c'est ça la magie. On s'est retrouvé autour de Renaud (auteur principal du groupe) et son inspiration. C'est là que la magie à commencé a opérer.
Es-ce qu'il y a un album en préparation? Quelque chose qui va sortir?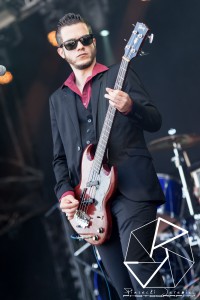 On a déjà un album, et il y en a un deuxième qui arrive, on va rentrer en studio en novembre et voilà. On va commencer à le préparer dès que cette série de concerts d'été se termine et on va se pencher plus sérieusement sur tout ça.
Es-ce que quand on commence à être connu ou quand on est connu, y a t-il encore moyen d'avoir une vie sociale ou es-ce que c'est vraiment « à fond dans la musique » ?
On en est pas la, on est en développement ici, on a joué dans des groupes plus grands et c'est difficile. Il faut te donner corps et âme mais ça reste un plaisir. Disons que l'on a plus vraiment de week end. C'est un choix, on reste des passionnés de musique donc ce choix n'est pas difficile à faire mais si tu n'y crois pas, tu n'y arriveras jamais.
N'avez vous pas cette peur d'attraper la grosse tête? 
Non, non, pas du tout. On a l'âge que l'on a, on a plus 20 ans. La fois passée, on discutait de ça et on trouvait que c'était super important de garder cette fragilité, de toujours être étonné du fait que ça fonctionne et qu'à chaque fois que tu montes sur scène tu te dises que c'est un challenge. Avoir la grosse tête c'est se tirer une balle dans le pied.
Ce groupe n'est pas une revanche mais un partage, il faut savoir que ce n'est jamais acquis donc on reste les pieds sur terre.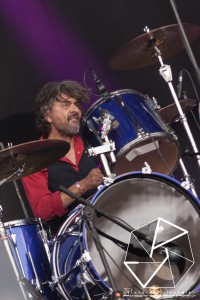 Si vous deviez définir le groupe en 3 mots?
Rock & Roll ! Ca fait 3… (rires) Il y a un coté crépusculaire, menaçant, pas seulement, mais des mélanges d'émotions.
Peut-être « Fureur de vivre » c'est 3 mots aussi, non? (rires)
Plus sérieusement en 3 mots, honnêteté, sentiment et cinéma. On se donne a fond sur scène, on se donne en spectacle… Spectacle alors. Donc ça fait honnêteté, sentiment et spectacle.
Quelle serait pour vous la scène de rêve? La consécration, celle ou vous vous dites, avant d'arrêter on doit y passer ! 
Le Rockpalast, tu vois cette émission? C'est une émission culte qui existe depuis 74, tu as Bowie, les Stones qui sont passés là, tous les grands sont passés par là et on va y passer aussi, on l'espère ! Et….. Wembley (rires) ou peut-être le Pukkelpop.
On vous le souhaite, un dernier mot sur le festival, sur le public?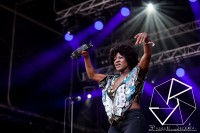 Super, on a très bien été accueillis, c'est top de chez top, vraiment. Enfin reposes nous cette question après la cantine
(rires). Sinon on remercie énormément les organisateurs et le public très souriant, c'était génial, rien à redire.
Merci à vous, et bonne continuation.
Merci aussi!
Evaluez cet article :

Warning: count(): Parameter must be an array or an object that implements Countable in /customers/7/d/6/lebourlingueurdu.net/httpd.www/wp-content/plugins/the-events-calendar/common/src/Tribe/Customizer/Section.php on line 204 Warning: count(): Parameter must be an array or an object that implements Countable in /customers/7/d/6/lebourlingueurdu.net/httpd.www/wp-content/plugins/the-events-calendar/common/src/Tribe/Customizer/Section.php on line 204 Warning: count(): Parameter must be an array or an object that implements Countable in /customers/7/d/6/lebourlingueurdu.net/httpd.www/wp-content/plugins/the-events-calendar/common/src/Tribe/Customizer/Section.php on line 204 Warning: count(): Parameter must be an array or an object that implements Countable in /customers/7/d/6/lebourlingueurdu.net/httpd.www/wp-content/plugins/the-events-calendar/common/src/Tribe/Customizer/Section.php on line 204 Warning: count(): Parameter must be an array or an object that implements Countable in /customers/7/d/6/lebourlingueurdu.net/httpd.www/wp-content/plugins/the-events-calendar/common/src/Tribe/Customizer/Section.php on line 204 Warning: count(): Parameter must be an array or an object that implements Countable in /customers/7/d/6/lebourlingueurdu.net/httpd.www/wp-content/plugins/the-events-calendar/common/src/Tribe/Customizer/Section.php on line 204 Warning: count(): Parameter must be an array or an object that implements Countable in /customers/7/d/6/lebourlingueurdu.net/httpd.www/wp-content/plugins/the-events-calendar/common/src/Tribe/Customizer/Section.php on line 204 Warning: count(): Parameter must be an array or an object that implements Countable in /customers/7/d/6/lebourlingueurdu.net/httpd.www/wp-content/plugins/the-events-calendar/common/src/Tribe/Customizer/Section.php on line 204 Warning: count(): Parameter must be an array or an object that implements Countable in /customers/7/d/6/lebourlingueurdu.net/httpd.www/wp-content/plugins/the-events-calendar/common/src/Tribe/Customizer/Section.php on line 204 Warning: count(): Parameter must be an array or an object that implements Countable in /customers/7/d/6/lebourlingueurdu.net/httpd.www/wp-content/plugins/the-events-calendar/common/src/Tribe/Customizer/Section.php on line 204 Warning: count(): Parameter must be an array or an object that implements Countable in /customers/7/d/6/lebourlingueurdu.net/httpd.www/wp-content/plugins/the-events-calendar/common/src/Tribe/Customizer/Section.php on line 204 Warning: count(): Parameter must be an array or an object that implements Countable in /customers/7/d/6/lebourlingueurdu.net/httpd.www/wp-content/plugins/the-events-calendar/common/src/Tribe/Customizer/Section.php on line 204 Warning: count(): Parameter must be an array or an object that implements Countable in /customers/7/d/6/lebourlingueurdu.net/httpd.www/wp-content/plugins/the-events-calendar/common/src/Tribe/Customizer/Section.php on line 204 Warning: count(): Parameter must be an array or an object that implements Countable in /customers/7/d/6/lebourlingueurdu.net/httpd.www/wp-content/plugins/the-events-calendar/common/src/Tribe/Customizer/Section.php on line 204 Warning: count(): Parameter must be an array or an object that implements Countable in /customers/7/d/6/lebourlingueurdu.net/httpd.www/wp-content/plugins/the-events-calendar/common/src/Tribe/Customizer/Section.php on line 204 Warning: count(): Parameter must be an array or an object that implements Countable in /customers/7/d/6/lebourlingueurdu.net/httpd.www/wp-content/plugins/the-events-calendar/common/src/Tribe/Customizer/Section.php on line 204 Warning: count(): Parameter must be an array or an object that implements Countable in /customers/7/d/6/lebourlingueurdu.net/httpd.www/wp-content/plugins/the-events-calendar/common/src/Tribe/Customizer/Section.php on line 204 Warning: count(): Parameter must be an array or an object that implements Countable in /customers/7/d/6/lebourlingueurdu.net/httpd.www/wp-content/plugins/the-events-calendar/common/src/Tribe/Customizer/Section.php on line 204 Warning: count(): Parameter must be an array or an object that implements Countable in /customers/7/d/6/lebourlingueurdu.net/httpd.www/wp-content/plugins/the-events-calendar/common/src/Tribe/Customizer/Section.php on line 204 Warning: count(): Parameter must be an array or an object that implements Countable in /customers/7/d/6/lebourlingueurdu.net/httpd.www/wp-content/plugins/the-events-calendar/common/src/Tribe/Customizer/Section.php on line 204 Warning: count(): Parameter must be an array or an object that implements Countable in /customers/7/d/6/lebourlingueurdu.net/httpd.www/wp-content/plugins/the-events-calendar/common/src/Tribe/Customizer/Section.php on line 204 Warning: count(): Parameter must be an array or an object that implements Countable in /customers/7/d/6/lebourlingueurdu.net/httpd.www/wp-content/plugins/the-events-calendar/common/src/Tribe/Customizer/Section.php on line 204 Warning: count(): Parameter must be an array or an object that implements Countable in /customers/7/d/6/lebourlingueurdu.net/httpd.www/wp-content/plugins/the-events-calendar/common/src/Tribe/Customizer/Section.php on line 204 Warning: count(): Parameter must be an array or an object that implements Countable in /customers/7/d/6/lebourlingueurdu.net/httpd.www/wp-content/plugins/the-events-calendar/common/src/Tribe/Customizer/Section.php on line 204 Warning: count(): Parameter must be an array or an object that implements Countable in /customers/7/d/6/lebourlingueurdu.net/httpd.www/wp-content/plugins/the-events-calendar/common/src/Tribe/Customizer/Section.php on line 204 Warning: count(): Parameter must be an array or an object that implements Countable in /customers/7/d/6/lebourlingueurdu.net/httpd.www/wp-content/plugins/the-events-calendar/common/src/Tribe/Customizer/Section.php on line 204 Warning: count(): Parameter must be an array or an object that implements Countable in /customers/7/d/6/lebourlingueurdu.net/httpd.www/wp-content/plugins/the-events-calendar/common/src/Tribe/Customizer/Section.php on line 204 Warning: count(): Parameter must be an array or an object that implements Countable in /customers/7/d/6/lebourlingueurdu.net/httpd.www/wp-content/plugins/the-events-calendar/common/src/Tribe/Customizer/Section.php on line 204 Warning: count(): Parameter must be an array or an object that implements Countable in /customers/7/d/6/lebourlingueurdu.net/httpd.www/wp-content/plugins/the-events-calendar/common/src/Tribe/Customizer/Section.php on line 204 Warning: count(): Parameter must be an array or an object that implements Countable in /customers/7/d/6/lebourlingueurdu.net/httpd.www/wp-content/plugins/the-events-calendar/common/src/Tribe/Customizer/Section.php on line 204 Warning: count(): Parameter must be an array or an object that implements Countable in /customers/7/d/6/lebourlingueurdu.net/httpd.www/wp-content/plugins/the-events-calendar/common/src/Tribe/Customizer/Section.php on line 204 Warning: count(): Parameter must be an array or an object that implements Countable in /customers/7/d/6/lebourlingueurdu.net/httpd.www/wp-content/plugins/the-events-calendar/common/src/Tribe/Customizer/Section.php on line 204 Warning: count(): Parameter must be an array or an object that implements Countable in /customers/7/d/6/lebourlingueurdu.net/httpd.www/wp-content/plugins/the-events-calendar/common/src/Tribe/Customizer/Section.php on line 204 Warning: count(): Parameter must be an array or an object that implements Countable in /customers/7/d/6/lebourlingueurdu.net/httpd.www/wp-content/plugins/the-events-calendar/common/src/Tribe/Customizer/Section.php on line 204 Warning: count(): Parameter must be an array or an object that implements Countable in /customers/7/d/6/lebourlingueurdu.net/httpd.www/wp-content/plugins/the-events-calendar/common/src/Tribe/Customizer/Section.php on line 204 Warning: count(): Parameter must be an array or an object that implements Countable in /customers/7/d/6/lebourlingueurdu.net/httpd.www/wp-content/plugins/the-events-calendar/common/src/Tribe/Customizer/Section.php on line 204 Warning: count(): Parameter must be an array or an object that implements Countable in /customers/7/d/6/lebourlingueurdu.net/httpd.www/wp-content/plugins/the-events-calendar/common/src/Tribe/Customizer/Section.php on line 204 Warning: count(): Parameter must be an array or an object that implements Countable in /customers/7/d/6/lebourlingueurdu.net/httpd.www/wp-content/plugins/the-events-calendar/common/src/Tribe/Customizer/Section.php on line 204 Warning: count(): Parameter must be an array or an object that implements Countable in /customers/7/d/6/lebourlingueurdu.net/httpd.www/wp-content/plugins/the-events-calendar/common/src/Tribe/Customizer/Section.php on line 204 Warning: count(): Parameter must be an array or an object that implements Countable in /customers/7/d/6/lebourlingueurdu.net/httpd.www/wp-content/plugins/the-events-calendar/common/src/Tribe/Customizer/Section.php on line 204 Warning: count(): Parameter must be an array or an object that implements Countable in /customers/7/d/6/lebourlingueurdu.net/httpd.www/wp-content/plugins/the-events-calendar/common/src/Tribe/Customizer/Section.php on line 204 Warning: count(): Parameter must be an array or an object that implements Countable in /customers/7/d/6/lebourlingueurdu.net/httpd.www/wp-content/plugins/the-events-calendar/common/src/Tribe/Customizer/Section.php on line 204 Warning: count(): Parameter must be an array or an object that implements Countable in /customers/7/d/6/lebourlingueurdu.net/httpd.www/wp-content/plugins/the-events-calendar/common/src/Tribe/Customizer/Section.php on line 204 Warning: count(): Parameter must be an array or an object that implements Countable in /customers/7/d/6/lebourlingueurdu.net/httpd.www/wp-content/plugins/the-events-calendar/common/src/Tribe/Customizer/Section.php on line 204 Warning: count(): Parameter must be an array or an object that implements Countable in /customers/7/d/6/lebourlingueurdu.net/httpd.www/wp-content/plugins/the-events-calendar/common/src/Tribe/Customizer/Section.php on line 204 Warning: count(): Parameter must be an array or an object that implements Countable in /customers/7/d/6/lebourlingueurdu.net/httpd.www/wp-content/plugins/the-events-calendar/common/src/Tribe/Customizer/Section.php on line 204 Warning: count(): Parameter must be an array or an object that implements Countable in /customers/7/d/6/lebourlingueurdu.net/httpd.www/wp-content/plugins/the-events-calendar/common/src/Tribe/Customizer/Section.php on line 204 Warning: count(): Parameter must be an array or an object that implements Countable in /customers/7/d/6/lebourlingueurdu.net/httpd.www/wp-content/plugins/the-events-calendar/common/src/Tribe/Customizer/Section.php on line 204 Warning: count(): Parameter must be an array or an object that implements Countable in /customers/7/d/6/lebourlingueurdu.net/httpd.www/wp-content/plugins/the-events-calendar/common/src/Tribe/Customizer/Section.php on line 204 Warning: count(): Parameter must be an array or an object that implements Countable in /customers/7/d/6/lebourlingueurdu.net/httpd.www/wp-content/plugins/the-events-calendar/common/src/Tribe/Customizer/Section.php on line 204 Warning: count(): Parameter must be an array or an object that implements Countable in /customers/7/d/6/lebourlingueurdu.net/httpd.www/wp-content/plugins/the-events-calendar/common/src/Tribe/Customizer/Section.php on line 204 Warning: count(): Parameter must be an array or an object that implements Countable in /customers/7/d/6/lebourlingueurdu.net/httpd.www/wp-content/plugins/the-events-calendar/common/src/Tribe/Customizer/Section.php on line 204 Warning: count(): Parameter must be an array or an object that implements Countable in /customers/7/d/6/lebourlingueurdu.net/httpd.www/wp-content/plugins/the-events-calendar/common/src/Tribe/Customizer/Section.php on line 204 Warning: count(): Parameter must be an array or an object that implements Countable in /customers/7/d/6/lebourlingueurdu.net/httpd.www/wp-content/plugins/the-events-calendar/common/src/Tribe/Customizer/Section.php on line 204 Warning: count(): Parameter must be an array or an object that implements Countable in /customers/7/d/6/lebourlingueurdu.net/httpd.www/wp-content/plugins/the-events-calendar/common/src/Tribe/Customizer/Section.php on line 204 Warning: count(): Parameter must be an array or an object that implements Countable in /customers/7/d/6/lebourlingueurdu.net/httpd.www/wp-content/plugins/the-events-calendar/common/src/Tribe/Customizer/Section.php on line 204 Warning: count(): Parameter must be an array or an object that implements Countable in /customers/7/d/6/lebourlingueurdu.net/httpd.www/wp-content/plugins/the-events-calendar/common/src/Tribe/Customizer/Section.php on line 204 Warning: count(): Parameter must be an array or an object that implements Countable in /customers/7/d/6/lebourlingueurdu.net/httpd.www/wp-content/plugins/the-events-calendar/common/src/Tribe/Customizer/Section.php on line 204 Warning: count(): Parameter must be an array or an object that implements Countable in /customers/7/d/6/lebourlingueurdu.net/httpd.www/wp-content/plugins/the-events-calendar/common/src/Tribe/Customizer/Section.php on line 204 Warning: count(): Parameter must be an array or an object that implements Countable in /customers/7/d/6/lebourlingueurdu.net/httpd.www/wp-content/plugins/the-events-calendar/common/src/Tribe/Customizer/Section.php on line 204