Nicolas Pary
Publié par admin, le 5 février 2016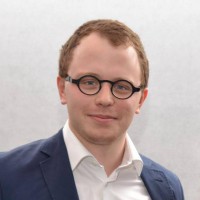 Sur le plan professionnel, je suis actuellement chercheur à la Solvay Brussels School of Economics and Management de l'Université Libre de Bruxelles où j'ai aussi obtenu mon diplôme d'Ingénieur de Gestion.
Sur le plan culturel, j'ai pratiqué le théâtre pendant 4 ans à l'Académie de La Louvière ; j'ai donc ressenti, à très modeste échelle, ce trac qui précède la montée sur scène et ce soulagement quand viennent les premiers rires ou les applaudissements. En plus du théâtre, je lis autant que possible et suis un amateur de cinéma aux goûts variés, passant d'un genre et d'une époque à l'autre selon mes envies. A mes heures perdues, je m'intéresse aussi très humblement à la philosophie et à l'histoire des religions.
Je défends l'idée d'une culture à la fois exigeante et divertissante qui permette à chacun d'apprendre, sur lui et le monde, à tout âge.
Evaluez cet article :

Warning: count(): Parameter must be an array or an object that implements Countable in /customers/7/d/6/lebourlingueurdu.net/httpd.www/wp-content/plugins/the-events-calendar/common/src/Tribe/Customizer/Section.php on line 204 Warning: count(): Parameter must be an array or an object that implements Countable in /customers/7/d/6/lebourlingueurdu.net/httpd.www/wp-content/plugins/the-events-calendar/common/src/Tribe/Customizer/Section.php on line 204 Warning: count(): Parameter must be an array or an object that implements Countable in /customers/7/d/6/lebourlingueurdu.net/httpd.www/wp-content/plugins/the-events-calendar/common/src/Tribe/Customizer/Section.php on line 204 Warning: count(): Parameter must be an array or an object that implements Countable in /customers/7/d/6/lebourlingueurdu.net/httpd.www/wp-content/plugins/the-events-calendar/common/src/Tribe/Customizer/Section.php on line 204 Warning: count(): Parameter must be an array or an object that implements Countable in /customers/7/d/6/lebourlingueurdu.net/httpd.www/wp-content/plugins/the-events-calendar/common/src/Tribe/Customizer/Section.php on line 204 Warning: count(): Parameter must be an array or an object that implements Countable in /customers/7/d/6/lebourlingueurdu.net/httpd.www/wp-content/plugins/the-events-calendar/common/src/Tribe/Customizer/Section.php on line 204 Warning: count(): Parameter must be an array or an object that implements Countable in /customers/7/d/6/lebourlingueurdu.net/httpd.www/wp-content/plugins/the-events-calendar/common/src/Tribe/Customizer/Section.php on line 204 Warning: count(): Parameter must be an array or an object that implements Countable in /customers/7/d/6/lebourlingueurdu.net/httpd.www/wp-content/plugins/the-events-calendar/common/src/Tribe/Customizer/Section.php on line 204 Warning: count(): Parameter must be an array or an object that implements Countable in /customers/7/d/6/lebourlingueurdu.net/httpd.www/wp-content/plugins/the-events-calendar/common/src/Tribe/Customizer/Section.php on line 204 Warning: count(): Parameter must be an array or an object that implements Countable in /customers/7/d/6/lebourlingueurdu.net/httpd.www/wp-content/plugins/the-events-calendar/common/src/Tribe/Customizer/Section.php on line 204 Warning: count(): Parameter must be an array or an object that implements Countable in /customers/7/d/6/lebourlingueurdu.net/httpd.www/wp-content/plugins/the-events-calendar/common/src/Tribe/Customizer/Section.php on line 204 Warning: count(): Parameter must be an array or an object that implements Countable in /customers/7/d/6/lebourlingueurdu.net/httpd.www/wp-content/plugins/the-events-calendar/common/src/Tribe/Customizer/Section.php on line 204 Warning: count(): Parameter must be an array or an object that implements Countable in /customers/7/d/6/lebourlingueurdu.net/httpd.www/wp-content/plugins/the-events-calendar/common/src/Tribe/Customizer/Section.php on line 204 Warning: count(): Parameter must be an array or an object that implements Countable in /customers/7/d/6/lebourlingueurdu.net/httpd.www/wp-content/plugins/the-events-calendar/common/src/Tribe/Customizer/Section.php on line 204 Warning: count(): Parameter must be an array or an object that implements Countable in /customers/7/d/6/lebourlingueurdu.net/httpd.www/wp-content/plugins/the-events-calendar/common/src/Tribe/Customizer/Section.php on line 204 Warning: count(): Parameter must be an array or an object that implements Countable in /customers/7/d/6/lebourlingueurdu.net/httpd.www/wp-content/plugins/the-events-calendar/common/src/Tribe/Customizer/Section.php on line 204 Warning: count(): Parameter must be an array or an object that implements Countable in /customers/7/d/6/lebourlingueurdu.net/httpd.www/wp-content/plugins/the-events-calendar/common/src/Tribe/Customizer/Section.php on line 204 Warning: count(): Parameter must be an array or an object that implements Countable in /customers/7/d/6/lebourlingueurdu.net/httpd.www/wp-content/plugins/the-events-calendar/common/src/Tribe/Customizer/Section.php on line 204 Warning: count(): Parameter must be an array or an object that implements Countable in /customers/7/d/6/lebourlingueurdu.net/httpd.www/wp-content/plugins/the-events-calendar/common/src/Tribe/Customizer/Section.php on line 204 Warning: count(): Parameter must be an array or an object that implements Countable in /customers/7/d/6/lebourlingueurdu.net/httpd.www/wp-content/plugins/the-events-calendar/common/src/Tribe/Customizer/Section.php on line 204 Warning: count(): Parameter must be an array or an object that implements Countable in /customers/7/d/6/lebourlingueurdu.net/httpd.www/wp-content/plugins/the-events-calendar/common/src/Tribe/Customizer/Section.php on line 204 Warning: count(): Parameter must be an array or an object that implements Countable in /customers/7/d/6/lebourlingueurdu.net/httpd.www/wp-content/plugins/the-events-calendar/common/src/Tribe/Customizer/Section.php on line 204 Warning: count(): Parameter must be an array or an object that implements Countable in /customers/7/d/6/lebourlingueurdu.net/httpd.www/wp-content/plugins/the-events-calendar/common/src/Tribe/Customizer/Section.php on line 204 Warning: count(): Parameter must be an array or an object that implements Countable in /customers/7/d/6/lebourlingueurdu.net/httpd.www/wp-content/plugins/the-events-calendar/common/src/Tribe/Customizer/Section.php on line 204 Warning: count(): Parameter must be an array or an object that implements Countable in /customers/7/d/6/lebourlingueurdu.net/httpd.www/wp-content/plugins/the-events-calendar/common/src/Tribe/Customizer/Section.php on line 204 Warning: count(): Parameter must be an array or an object that implements Countable in /customers/7/d/6/lebourlingueurdu.net/httpd.www/wp-content/plugins/the-events-calendar/common/src/Tribe/Customizer/Section.php on line 204 Warning: count(): Parameter must be an array or an object that implements Countable in /customers/7/d/6/lebourlingueurdu.net/httpd.www/wp-content/plugins/the-events-calendar/common/src/Tribe/Customizer/Section.php on line 204 Warning: count(): Parameter must be an array or an object that implements Countable in /customers/7/d/6/lebourlingueurdu.net/httpd.www/wp-content/plugins/the-events-calendar/common/src/Tribe/Customizer/Section.php on line 204 Warning: count(): Parameter must be an array or an object that implements Countable in /customers/7/d/6/lebourlingueurdu.net/httpd.www/wp-content/plugins/the-events-calendar/common/src/Tribe/Customizer/Section.php on line 204 Warning: count(): Parameter must be an array or an object that implements Countable in /customers/7/d/6/lebourlingueurdu.net/httpd.www/wp-content/plugins/the-events-calendar/common/src/Tribe/Customizer/Section.php on line 204 Warning: count(): Parameter must be an array or an object that implements Countable in /customers/7/d/6/lebourlingueurdu.net/httpd.www/wp-content/plugins/the-events-calendar/common/src/Tribe/Customizer/Section.php on line 204 Warning: count(): Parameter must be an array or an object that implements Countable in /customers/7/d/6/lebourlingueurdu.net/httpd.www/wp-content/plugins/the-events-calendar/common/src/Tribe/Customizer/Section.php on line 204 Warning: count(): Parameter must be an array or an object that implements Countable in /customers/7/d/6/lebourlingueurdu.net/httpd.www/wp-content/plugins/the-events-calendar/common/src/Tribe/Customizer/Section.php on line 204 Warning: count(): Parameter must be an array or an object that implements Countable in /customers/7/d/6/lebourlingueurdu.net/httpd.www/wp-content/plugins/the-events-calendar/common/src/Tribe/Customizer/Section.php on line 204 Warning: count(): Parameter must be an array or an object that implements Countable in /customers/7/d/6/lebourlingueurdu.net/httpd.www/wp-content/plugins/the-events-calendar/common/src/Tribe/Customizer/Section.php on line 204 Warning: count(): Parameter must be an array or an object that implements Countable in /customers/7/d/6/lebourlingueurdu.net/httpd.www/wp-content/plugins/the-events-calendar/common/src/Tribe/Customizer/Section.php on line 204 Warning: count(): Parameter must be an array or an object that implements Countable in /customers/7/d/6/lebourlingueurdu.net/httpd.www/wp-content/plugins/the-events-calendar/common/src/Tribe/Customizer/Section.php on line 204 Warning: count(): Parameter must be an array or an object that implements Countable in /customers/7/d/6/lebourlingueurdu.net/httpd.www/wp-content/plugins/the-events-calendar/common/src/Tribe/Customizer/Section.php on line 204 Warning: count(): Parameter must be an array or an object that implements Countable in /customers/7/d/6/lebourlingueurdu.net/httpd.www/wp-content/plugins/the-events-calendar/common/src/Tribe/Customizer/Section.php on line 204 Warning: count(): Parameter must be an array or an object that implements Countable in /customers/7/d/6/lebourlingueurdu.net/httpd.www/wp-content/plugins/the-events-calendar/common/src/Tribe/Customizer/Section.php on line 204 Warning: count(): Parameter must be an array or an object that implements Countable in /customers/7/d/6/lebourlingueurdu.net/httpd.www/wp-content/plugins/the-events-calendar/common/src/Tribe/Customizer/Section.php on line 204 Warning: count(): Parameter must be an array or an object that implements Countable in /customers/7/d/6/lebourlingueurdu.net/httpd.www/wp-content/plugins/the-events-calendar/common/src/Tribe/Customizer/Section.php on line 204 Warning: count(): Parameter must be an array or an object that implements Countable in /customers/7/d/6/lebourlingueurdu.net/httpd.www/wp-content/plugins/the-events-calendar/common/src/Tribe/Customizer/Section.php on line 204 Warning: count(): Parameter must be an array or an object that implements Countable in /customers/7/d/6/lebourlingueurdu.net/httpd.www/wp-content/plugins/the-events-calendar/common/src/Tribe/Customizer/Section.php on line 204 Warning: count(): Parameter must be an array or an object that implements Countable in /customers/7/d/6/lebourlingueurdu.net/httpd.www/wp-content/plugins/the-events-calendar/common/src/Tribe/Customizer/Section.php on line 204 Warning: count(): Parameter must be an array or an object that implements Countable in /customers/7/d/6/lebourlingueurdu.net/httpd.www/wp-content/plugins/the-events-calendar/common/src/Tribe/Customizer/Section.php on line 204 Warning: count(): Parameter must be an array or an object that implements Countable in /customers/7/d/6/lebourlingueurdu.net/httpd.www/wp-content/plugins/the-events-calendar/common/src/Tribe/Customizer/Section.php on line 204 Warning: count(): Parameter must be an array or an object that implements Countable in /customers/7/d/6/lebourlingueurdu.net/httpd.www/wp-content/plugins/the-events-calendar/common/src/Tribe/Customizer/Section.php on line 204 Warning: count(): Parameter must be an array or an object that implements Countable in /customers/7/d/6/lebourlingueurdu.net/httpd.www/wp-content/plugins/the-events-calendar/common/src/Tribe/Customizer/Section.php on line 204 Warning: count(): Parameter must be an array or an object that implements Countable in /customers/7/d/6/lebourlingueurdu.net/httpd.www/wp-content/plugins/the-events-calendar/common/src/Tribe/Customizer/Section.php on line 204 Warning: count(): Parameter must be an array or an object that implements Countable in /customers/7/d/6/lebourlingueurdu.net/httpd.www/wp-content/plugins/the-events-calendar/common/src/Tribe/Customizer/Section.php on line 204 Warning: count(): Parameter must be an array or an object that implements Countable in /customers/7/d/6/lebourlingueurdu.net/httpd.www/wp-content/plugins/the-events-calendar/common/src/Tribe/Customizer/Section.php on line 204 Warning: count(): Parameter must be an array or an object that implements Countable in /customers/7/d/6/lebourlingueurdu.net/httpd.www/wp-content/plugins/the-events-calendar/common/src/Tribe/Customizer/Section.php on line 204 Warning: count(): Parameter must be an array or an object that implements Countable in /customers/7/d/6/lebourlingueurdu.net/httpd.www/wp-content/plugins/the-events-calendar/common/src/Tribe/Customizer/Section.php on line 204 Warning: count(): Parameter must be an array or an object that implements Countable in /customers/7/d/6/lebourlingueurdu.net/httpd.www/wp-content/plugins/the-events-calendar/common/src/Tribe/Customizer/Section.php on line 204 Warning: count(): Parameter must be an array or an object that implements Countable in /customers/7/d/6/lebourlingueurdu.net/httpd.www/wp-content/plugins/the-events-calendar/common/src/Tribe/Customizer/Section.php on line 204 Warning: count(): Parameter must be an array or an object that implements Countable in /customers/7/d/6/lebourlingueurdu.net/httpd.www/wp-content/plugins/the-events-calendar/common/src/Tribe/Customizer/Section.php on line 204 Warning: count(): Parameter must be an array or an object that implements Countable in /customers/7/d/6/lebourlingueurdu.net/httpd.www/wp-content/plugins/the-events-calendar/common/src/Tribe/Customizer/Section.php on line 204 Warning: count(): Parameter must be an array or an object that implements Countable in /customers/7/d/6/lebourlingueurdu.net/httpd.www/wp-content/plugins/the-events-calendar/common/src/Tribe/Customizer/Section.php on line 204 Warning: count(): Parameter must be an array or an object that implements Countable in /customers/7/d/6/lebourlingueurdu.net/httpd.www/wp-content/plugins/the-events-calendar/common/src/Tribe/Customizer/Section.php on line 204