James McCartney sortira son premier album le 6 mai prochain
Publié par admin, le 6 mars 2016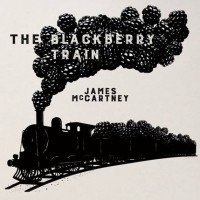 On parle souvent des filles et fils de et pourtant… Pour bon nombre d'entre eux, être la progéniture tant attendue n'est pas synonyme de succès du moins c'est le cas de James McCartney, fils ainé de Paul McCartney le chanteur mondialement connu des Beatles.
Ayant vécu une enfance sur les routes en compagnie de ses parents, James s'est intéressé très tôt à la musique. Pour ses neuf ans, Paul lui offrit une Fender Stratocaster qui fut plus que probablement une révélation pour lui mais ce n'est qu'en 2016 que James sortira son premier album « The Blackberry Train » à l'âge de 38 ans.
Ce premier album est fort attendu par la critique qui suit James depuis quelques années, il a notamment participé à plusieurs albums de son père au début des années 2000 avant de commencer une carrière solo sans réel succès. Son premier single est disponible sur youtube et devrait plaire aux amateurs de pop rock.
Too Hard, est le titre de ce premier single qui fera partie de l'album à sortir le 6 mai prochain. Un morceau assez frais qui surprendra les fans de la première heure et qui ne peut qu'annoncer de très bonnes choses pour cet artiste qui s'expose enfin au public. On sent que rien n'a été laissé au hasard dans la conception de cet album, James en plus des studios d'Abbey Road a voulu s'attacher les services de Steve Albini, l'ingénieur son qui bossait autrefois avec Nirvana, The Pixies et plus récemment PJ Harvey. Il en ressort un album assez équilibré qui devrait se retrouver dans les playlists de tous les amateurs de rock.
Attendons encore quelques jours avant de découvrir un peu plus cet album mais en attendons faisons nous plaisir avec ce premier titre : Too Hard.
Evaluez cet article :

Warning: count(): Parameter must be an array or an object that implements Countable in /customers/7/d/6/lebourlingueurdu.net/httpd.www/wp-content/plugins/the-events-calendar/common/src/Tribe/Customizer/Section.php on line 204 Warning: count(): Parameter must be an array or an object that implements Countable in /customers/7/d/6/lebourlingueurdu.net/httpd.www/wp-content/plugins/the-events-calendar/common/src/Tribe/Customizer/Section.php on line 204 Warning: count(): Parameter must be an array or an object that implements Countable in /customers/7/d/6/lebourlingueurdu.net/httpd.www/wp-content/plugins/the-events-calendar/common/src/Tribe/Customizer/Section.php on line 204 Warning: count(): Parameter must be an array or an object that implements Countable in /customers/7/d/6/lebourlingueurdu.net/httpd.www/wp-content/plugins/the-events-calendar/common/src/Tribe/Customizer/Section.php on line 204 Warning: count(): Parameter must be an array or an object that implements Countable in /customers/7/d/6/lebourlingueurdu.net/httpd.www/wp-content/plugins/the-events-calendar/common/src/Tribe/Customizer/Section.php on line 204 Warning: count(): Parameter must be an array or an object that implements Countable in /customers/7/d/6/lebourlingueurdu.net/httpd.www/wp-content/plugins/the-events-calendar/common/src/Tribe/Customizer/Section.php on line 204 Warning: count(): Parameter must be an array or an object that implements Countable in /customers/7/d/6/lebourlingueurdu.net/httpd.www/wp-content/plugins/the-events-calendar/common/src/Tribe/Customizer/Section.php on line 204 Warning: count(): Parameter must be an array or an object that implements Countable in /customers/7/d/6/lebourlingueurdu.net/httpd.www/wp-content/plugins/the-events-calendar/common/src/Tribe/Customizer/Section.php on line 204 Warning: count(): Parameter must be an array or an object that implements Countable in /customers/7/d/6/lebourlingueurdu.net/httpd.www/wp-content/plugins/the-events-calendar/common/src/Tribe/Customizer/Section.php on line 204 Warning: count(): Parameter must be an array or an object that implements Countable in /customers/7/d/6/lebourlingueurdu.net/httpd.www/wp-content/plugins/the-events-calendar/common/src/Tribe/Customizer/Section.php on line 204 Warning: count(): Parameter must be an array or an object that implements Countable in /customers/7/d/6/lebourlingueurdu.net/httpd.www/wp-content/plugins/the-events-calendar/common/src/Tribe/Customizer/Section.php on line 204 Warning: count(): Parameter must be an array or an object that implements Countable in /customers/7/d/6/lebourlingueurdu.net/httpd.www/wp-content/plugins/the-events-calendar/common/src/Tribe/Customizer/Section.php on line 204 Warning: count(): Parameter must be an array or an object that implements Countable in /customers/7/d/6/lebourlingueurdu.net/httpd.www/wp-content/plugins/the-events-calendar/common/src/Tribe/Customizer/Section.php on line 204 Warning: count(): Parameter must be an array or an object that implements Countable in /customers/7/d/6/lebourlingueurdu.net/httpd.www/wp-content/plugins/the-events-calendar/common/src/Tribe/Customizer/Section.php on line 204 Warning: count(): Parameter must be an array or an object that implements Countable in /customers/7/d/6/lebourlingueurdu.net/httpd.www/wp-content/plugins/the-events-calendar/common/src/Tribe/Customizer/Section.php on line 204 Warning: count(): Parameter must be an array or an object that implements Countable in /customers/7/d/6/lebourlingueurdu.net/httpd.www/wp-content/plugins/the-events-calendar/common/src/Tribe/Customizer/Section.php on line 204 Warning: count(): Parameter must be an array or an object that implements Countable in /customers/7/d/6/lebourlingueurdu.net/httpd.www/wp-content/plugins/the-events-calendar/common/src/Tribe/Customizer/Section.php on line 204 Warning: count(): Parameter must be an array or an object that implements Countable in /customers/7/d/6/lebourlingueurdu.net/httpd.www/wp-content/plugins/the-events-calendar/common/src/Tribe/Customizer/Section.php on line 204 Warning: count(): Parameter must be an array or an object that implements Countable in /customers/7/d/6/lebourlingueurdu.net/httpd.www/wp-content/plugins/the-events-calendar/common/src/Tribe/Customizer/Section.php on line 204 Warning: count(): Parameter must be an array or an object that implements Countable in /customers/7/d/6/lebourlingueurdu.net/httpd.www/wp-content/plugins/the-events-calendar/common/src/Tribe/Customizer/Section.php on line 204 Warning: count(): Parameter must be an array or an object that implements Countable in /customers/7/d/6/lebourlingueurdu.net/httpd.www/wp-content/plugins/the-events-calendar/common/src/Tribe/Customizer/Section.php on line 204 Warning: count(): Parameter must be an array or an object that implements Countable in /customers/7/d/6/lebourlingueurdu.net/httpd.www/wp-content/plugins/the-events-calendar/common/src/Tribe/Customizer/Section.php on line 204 Warning: count(): Parameter must be an array or an object that implements Countable in /customers/7/d/6/lebourlingueurdu.net/httpd.www/wp-content/plugins/the-events-calendar/common/src/Tribe/Customizer/Section.php on line 204 Warning: count(): Parameter must be an array or an object that implements Countable in /customers/7/d/6/lebourlingueurdu.net/httpd.www/wp-content/plugins/the-events-calendar/common/src/Tribe/Customizer/Section.php on line 204 Warning: count(): Parameter must be an array or an object that implements Countable in /customers/7/d/6/lebourlingueurdu.net/httpd.www/wp-content/plugins/the-events-calendar/common/src/Tribe/Customizer/Section.php on line 204 Warning: count(): Parameter must be an array or an object that implements Countable in /customers/7/d/6/lebourlingueurdu.net/httpd.www/wp-content/plugins/the-events-calendar/common/src/Tribe/Customizer/Section.php on line 204 Warning: count(): Parameter must be an array or an object that implements Countable in /customers/7/d/6/lebourlingueurdu.net/httpd.www/wp-content/plugins/the-events-calendar/common/src/Tribe/Customizer/Section.php on line 204 Warning: count(): Parameter must be an array or an object that implements Countable in /customers/7/d/6/lebourlingueurdu.net/httpd.www/wp-content/plugins/the-events-calendar/common/src/Tribe/Customizer/Section.php on line 204 Warning: count(): Parameter must be an array or an object that implements Countable in /customers/7/d/6/lebourlingueurdu.net/httpd.www/wp-content/plugins/the-events-calendar/common/src/Tribe/Customizer/Section.php on line 204 Warning: count(): Parameter must be an array or an object that implements Countable in /customers/7/d/6/lebourlingueurdu.net/httpd.www/wp-content/plugins/the-events-calendar/common/src/Tribe/Customizer/Section.php on line 204 Warning: count(): Parameter must be an array or an object that implements Countable in /customers/7/d/6/lebourlingueurdu.net/httpd.www/wp-content/plugins/the-events-calendar/common/src/Tribe/Customizer/Section.php on line 204 Warning: count(): Parameter must be an array or an object that implements Countable in /customers/7/d/6/lebourlingueurdu.net/httpd.www/wp-content/plugins/the-events-calendar/common/src/Tribe/Customizer/Section.php on line 204 Warning: count(): Parameter must be an array or an object that implements Countable in /customers/7/d/6/lebourlingueurdu.net/httpd.www/wp-content/plugins/the-events-calendar/common/src/Tribe/Customizer/Section.php on line 204 Warning: count(): Parameter must be an array or an object that implements Countable in /customers/7/d/6/lebourlingueurdu.net/httpd.www/wp-content/plugins/the-events-calendar/common/src/Tribe/Customizer/Section.php on line 204 Warning: count(): Parameter must be an array or an object that implements Countable in /customers/7/d/6/lebourlingueurdu.net/httpd.www/wp-content/plugins/the-events-calendar/common/src/Tribe/Customizer/Section.php on line 204 Warning: count(): Parameter must be an array or an object that implements Countable in /customers/7/d/6/lebourlingueurdu.net/httpd.www/wp-content/plugins/the-events-calendar/common/src/Tribe/Customizer/Section.php on line 204 Warning: count(): Parameter must be an array or an object that implements Countable in /customers/7/d/6/lebourlingueurdu.net/httpd.www/wp-content/plugins/the-events-calendar/common/src/Tribe/Customizer/Section.php on line 204 Warning: count(): Parameter must be an array or an object that implements Countable in /customers/7/d/6/lebourlingueurdu.net/httpd.www/wp-content/plugins/the-events-calendar/common/src/Tribe/Customizer/Section.php on line 204 Warning: count(): Parameter must be an array or an object that implements Countable in /customers/7/d/6/lebourlingueurdu.net/httpd.www/wp-content/plugins/the-events-calendar/common/src/Tribe/Customizer/Section.php on line 204 Warning: count(): Parameter must be an array or an object that implements Countable in /customers/7/d/6/lebourlingueurdu.net/httpd.www/wp-content/plugins/the-events-calendar/common/src/Tribe/Customizer/Section.php on line 204 Warning: count(): Parameter must be an array or an object that implements Countable in /customers/7/d/6/lebourlingueurdu.net/httpd.www/wp-content/plugins/the-events-calendar/common/src/Tribe/Customizer/Section.php on line 204 Warning: count(): Parameter must be an array or an object that implements Countable in /customers/7/d/6/lebourlingueurdu.net/httpd.www/wp-content/plugins/the-events-calendar/common/src/Tribe/Customizer/Section.php on line 204 Warning: count(): Parameter must be an array or an object that implements Countable in /customers/7/d/6/lebourlingueurdu.net/httpd.www/wp-content/plugins/the-events-calendar/common/src/Tribe/Customizer/Section.php on line 204 Warning: count(): Parameter must be an array or an object that implements Countable in /customers/7/d/6/lebourlingueurdu.net/httpd.www/wp-content/plugins/the-events-calendar/common/src/Tribe/Customizer/Section.php on line 204 Warning: count(): Parameter must be an array or an object that implements Countable in /customers/7/d/6/lebourlingueurdu.net/httpd.www/wp-content/plugins/the-events-calendar/common/src/Tribe/Customizer/Section.php on line 204 Warning: count(): Parameter must be an array or an object that implements Countable in /customers/7/d/6/lebourlingueurdu.net/httpd.www/wp-content/plugins/the-events-calendar/common/src/Tribe/Customizer/Section.php on line 204 Warning: count(): Parameter must be an array or an object that implements Countable in /customers/7/d/6/lebourlingueurdu.net/httpd.www/wp-content/plugins/the-events-calendar/common/src/Tribe/Customizer/Section.php on line 204 Warning: count(): Parameter must be an array or an object that implements Countable in /customers/7/d/6/lebourlingueurdu.net/httpd.www/wp-content/plugins/the-events-calendar/common/src/Tribe/Customizer/Section.php on line 204 Warning: count(): Parameter must be an array or an object that implements Countable in /customers/7/d/6/lebourlingueurdu.net/httpd.www/wp-content/plugins/the-events-calendar/common/src/Tribe/Customizer/Section.php on line 204 Warning: count(): Parameter must be an array or an object that implements Countable in /customers/7/d/6/lebourlingueurdu.net/httpd.www/wp-content/plugins/the-events-calendar/common/src/Tribe/Customizer/Section.php on line 204 Warning: count(): Parameter must be an array or an object that implements Countable in /customers/7/d/6/lebourlingueurdu.net/httpd.www/wp-content/plugins/the-events-calendar/common/src/Tribe/Customizer/Section.php on line 204 Warning: count(): Parameter must be an array or an object that implements Countable in /customers/7/d/6/lebourlingueurdu.net/httpd.www/wp-content/plugins/the-events-calendar/common/src/Tribe/Customizer/Section.php on line 204 Warning: count(): Parameter must be an array or an object that implements Countable in /customers/7/d/6/lebourlingueurdu.net/httpd.www/wp-content/plugins/the-events-calendar/common/src/Tribe/Customizer/Section.php on line 204 Warning: count(): Parameter must be an array or an object that implements Countable in /customers/7/d/6/lebourlingueurdu.net/httpd.www/wp-content/plugins/the-events-calendar/common/src/Tribe/Customizer/Section.php on line 204 Warning: count(): Parameter must be an array or an object that implements Countable in /customers/7/d/6/lebourlingueurdu.net/httpd.www/wp-content/plugins/the-events-calendar/common/src/Tribe/Customizer/Section.php on line 204 Warning: count(): Parameter must be an array or an object that implements Countable in /customers/7/d/6/lebourlingueurdu.net/httpd.www/wp-content/plugins/the-events-calendar/common/src/Tribe/Customizer/Section.php on line 204 Warning: count(): Parameter must be an array or an object that implements Countable in /customers/7/d/6/lebourlingueurdu.net/httpd.www/wp-content/plugins/the-events-calendar/common/src/Tribe/Customizer/Section.php on line 204 Warning: count(): Parameter must be an array or an object that implements Countable in /customers/7/d/6/lebourlingueurdu.net/httpd.www/wp-content/plugins/the-events-calendar/common/src/Tribe/Customizer/Section.php on line 204 Warning: count(): Parameter must be an array or an object that implements Countable in /customers/7/d/6/lebourlingueurdu.net/httpd.www/wp-content/plugins/the-events-calendar/common/src/Tribe/Customizer/Section.php on line 204 Warning: count(): Parameter must be an array or an object that implements Countable in /customers/7/d/6/lebourlingueurdu.net/httpd.www/wp-content/plugins/the-events-calendar/common/src/Tribe/Customizer/Section.php on line 204