Rencontre avec Sarah Van Elst dans le cadre de la tournée de La Légende du Roi Arthur
Publié par admin, le 5 février 2016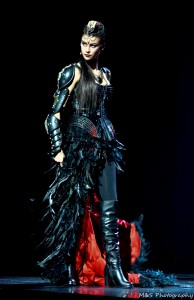 Nous avions rendez-vous cette semaine avec Sarah Van Elst, la seule belge du casting de La Légende du Roi Arthur, la nouvelle production de Dove Attia et Stéphane Cohen actuellement en tournée en France, Belgique et Suisse.
Une première rencontre qui en appellera certainement d'autres vu le parcours de bourlingueuse de notre invitée du jour. Si Sarah s'est surtout faite connaître en étant Miss Anvers 2014 et via sa participation à la saison 4 de The Voice, son parcours l'a emmené aux quatre coins du monde pour faire d'elle aujourd'hui une artiste à la sensibilité et au charme certain.
La scène, elle est née dessus. Issue d'une famille aux goûts artistiques aussi prononcés que divers, Sarah a très vite pris ses racines à Grammont en chantant pour le groupe BXS Entertainment sous le nom de scène de Robinne Barry. Dès ses 13 ans, c'est vers l'académie des Beaux-Arts d'Anvers que la jeune bruxelloise se tourne afin de compléter un cursus scolaire en danse classique. Si elle ne passa pas les premières sélections c'est avec détermination qu'elle s'entraînera afin d'accéder aux études dès la session suivante. Fort de cette formation artistique, Sarah sent que la musique est un domaine qui lui plait et n'hésite pas lors d'un concert du chanteur américain Jeremih à aller trouver le producteur de celui-ci afin de lui demander une audition. C'est chose faite et la voilà quelques jours plus tard à Londres pour sa première audition qui sera poursuivie par l'enregistrement d'un premier album dans les studios de Chicago aux Etats-Unis.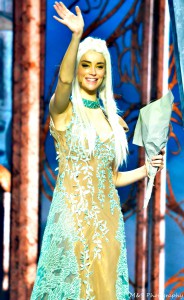 La vie d'une artiste ne tient souvent qu'à un fil, malgré la bonne volonté du producteur Mick Schultz, aucune major américain ne se mouillera pour sortir l'album d'une jeune bruxelloise sortie un peu de nulle part et ce malgré le talent indéniable qui ressort des morceaux enregistrés en studio. Les tentatives londoniennes seront tout aussi infructueuses mais cela ne découragera pas Sarah bien déterminée à produire son premier album.
Aujourd'hui c'est dans la comédie musicale du Roi Arthur que l'on la découvre tantôt sous les traits de la fée Morgane, tantôt étincelante dans ceux de Dame Guenièvre. Deux rôles qui lui permettent enfin et ce malgré qu'elle en soit les doublures, de toucher le public qui lui est cher. Laissons donc place à l'artiste et remercions là pour le temps qu'elle nous a accordé afin de répondre à nos questions !
Lionel : Bonjour Sarah, nous sommes content de pouvoir t'accueillir sur nos pages, ce n'est pas tous les jours qu'une bruxelloise participe à une production tel que « La Légende du Roi Arthur »
Sarah Van Elst : Bonjour aux lecteurs et merci à vous de me recevoir
Lionel : On ne va pas refaire ta biographie mais nous sommes surpris de voir que c'est avec force et abnégation que tu mènes ta carrière actuelle, n'est-ce pas trop compliqué de mener une telle vie ?
Sarah Van Elst : Depuis très jeune, je suis bercée par le monde du spectacle, je sais ce que je veux faire et fais de mon mieux pour y arriver. Le spectacle de La légende du Roi Arthur est une bonne expérience que je mène depuis plusieurs mois maintenant, après être passée dans The Voice, j'ai écumé les castings parisiens afin de persévérer dans la musique, ce qui a plu à la direction de la comédie musicale était que je puisses tant remplir le rôle de Guenièvre que celui de Morgane. En parallèle, je vais commencer le tournage d'une série de télévision belge avec le réalisateur flamand Guy Goosens donc oui, je n'ai pas le temps de chômer, surtout que je vis actuellement surtout à Paris, une ville qui bouge constamment. 
Lionel : Tu le dis justement, tu peux remplir le rôle tant de la fée Morgane que celui de Dame Guenièvre mais n'y en a t'il pas l'un des deux dans lequel tu te sentes mieux ?
Sarah Van Elst : Les deux personnages correspondent à ma personnalité, dans la vie, je peux très bien me la jouer Miss comme le lendemain me retrouver dans des Battle de danse de rue improvisée. Echanger les talons éguilles pour un bon jeans basket n'a jamais été un problème pour moi, je suis une femme de caractère, je pense que c'est ce qui me pousse à vouloir systématiquement saisir toutes les opportunités qui s'offrent à moi, je peux du coup prendre ce côté sévère de la fée Morgane et avoir dans un même temps toute la tendresse qui incombe à Guenièvre. Il m'est donc impossible de te dire dans lequel des rôles je me sens le mieux.
Lionel : Vous êtes maintenant en tournée dans toute la France, comment cela se passe t'il une tournée dans une super production telle que la Légende du Roi Arthur ?
Sarah Van Elst : Et bien écoute, très bien en général, contrairement au Palais des Congrès, on réduit un peu la voilure, moins de danseurs sur scène mais toujours l'envie de donner le meilleur de nous sur scène. On démarre tous les vendredi de Paris pour nous produire sur les différentes scènes. En ce qui me concerne, j'apprends des fois deux jours avant le rôle que je tiendrai lors du spectacle, je remplace Zaho ce week-end à Bruxelles dans le rôle de la Fée Morgane, je suis très excitée à l'idée de tenir ce rôle à Bruxelles qui est bien entendu pour moi, LA date de la tournée. Il règne une excellente ambiance au sein de la troupe, tu pourras découvrir cela samedi lors du spectacle !
Lionel : Se sera avec plaisir ! Pour terminer, je me suis laisser dire que tu travaillais actuellement un album de musique, peux tu nous en dire plus ?
Sarah Van Elst : En effet, je travaille actuellement sur un album d'Urban Pop, un style que j'affectionne particulièrement. Tous les titres seront en anglais sur celui-ci. L'album est vraiment en cours de confection, rien n'est vraiment encore défini, j'ai par exemple rencontré BJ Scott dont je suis fan ce midi tout à fait par hasard en allant manger avec ma maman et lui ai proposé de me donner son avis sur mon travail. J'ai hâte de pouvoir le dévoiler au public mais se sera bien sûr après la tournée en juin prochain. 
Lionel : Et bien écoute, c'est tout le mal que l'on te souhaite, on n'hésitera pas à suivre de prêt ce que tu fais et serons la déjà ce samedi pour te voir sur la scène du Palais 12 du Heyzel à Bruxelles.
Sarah Van Elst : C'était avec plaisir, on se revoit très vite samedi avant le spectacle pour vous faire découvrir les coulisses !
On retrouvera Sarah ce week-end lors de la présentation du spectacle de la Légende du Roi Arthur et ne manqueront pas de vous faire découvrir l'envers du décors d'un spectacle dans la lignée de 1789 les amants de la Bastille, Le roi soleil ou autre Mozart l'Opéra Rock !
Evaluez cet article :

Warning: count(): Parameter must be an array or an object that implements Countable in /customers/7/d/6/lebourlingueurdu.net/httpd.www/wp-content/plugins/the-events-calendar/common/src/Tribe/Customizer/Section.php on line 204 Warning: count(): Parameter must be an array or an object that implements Countable in /customers/7/d/6/lebourlingueurdu.net/httpd.www/wp-content/plugins/the-events-calendar/common/src/Tribe/Customizer/Section.php on line 204 Warning: count(): Parameter must be an array or an object that implements Countable in /customers/7/d/6/lebourlingueurdu.net/httpd.www/wp-content/plugins/the-events-calendar/common/src/Tribe/Customizer/Section.php on line 204 Warning: count(): Parameter must be an array or an object that implements Countable in /customers/7/d/6/lebourlingueurdu.net/httpd.www/wp-content/plugins/the-events-calendar/common/src/Tribe/Customizer/Section.php on line 204 Warning: count(): Parameter must be an array or an object that implements Countable in /customers/7/d/6/lebourlingueurdu.net/httpd.www/wp-content/plugins/the-events-calendar/common/src/Tribe/Customizer/Section.php on line 204 Warning: count(): Parameter must be an array or an object that implements Countable in /customers/7/d/6/lebourlingueurdu.net/httpd.www/wp-content/plugins/the-events-calendar/common/src/Tribe/Customizer/Section.php on line 204 Warning: count(): Parameter must be an array or an object that implements Countable in /customers/7/d/6/lebourlingueurdu.net/httpd.www/wp-content/plugins/the-events-calendar/common/src/Tribe/Customizer/Section.php on line 204 Warning: count(): Parameter must be an array or an object that implements Countable in /customers/7/d/6/lebourlingueurdu.net/httpd.www/wp-content/plugins/the-events-calendar/common/src/Tribe/Customizer/Section.php on line 204 Warning: count(): Parameter must be an array or an object that implements Countable in /customers/7/d/6/lebourlingueurdu.net/httpd.www/wp-content/plugins/the-events-calendar/common/src/Tribe/Customizer/Section.php on line 204 Warning: count(): Parameter must be an array or an object that implements Countable in /customers/7/d/6/lebourlingueurdu.net/httpd.www/wp-content/plugins/the-events-calendar/common/src/Tribe/Customizer/Section.php on line 204 Warning: count(): Parameter must be an array or an object that implements Countable in /customers/7/d/6/lebourlingueurdu.net/httpd.www/wp-content/plugins/the-events-calendar/common/src/Tribe/Customizer/Section.php on line 204 Warning: count(): Parameter must be an array or an object that implements Countable in /customers/7/d/6/lebourlingueurdu.net/httpd.www/wp-content/plugins/the-events-calendar/common/src/Tribe/Customizer/Section.php on line 204 Warning: count(): Parameter must be an array or an object that implements Countable in /customers/7/d/6/lebourlingueurdu.net/httpd.www/wp-content/plugins/the-events-calendar/common/src/Tribe/Customizer/Section.php on line 204 Warning: count(): Parameter must be an array or an object that implements Countable in /customers/7/d/6/lebourlingueurdu.net/httpd.www/wp-content/plugins/the-events-calendar/common/src/Tribe/Customizer/Section.php on line 204 Warning: count(): Parameter must be an array or an object that implements Countable in /customers/7/d/6/lebourlingueurdu.net/httpd.www/wp-content/plugins/the-events-calendar/common/src/Tribe/Customizer/Section.php on line 204 Warning: count(): Parameter must be an array or an object that implements Countable in /customers/7/d/6/lebourlingueurdu.net/httpd.www/wp-content/plugins/the-events-calendar/common/src/Tribe/Customizer/Section.php on line 204 Warning: count(): Parameter must be an array or an object that implements Countable in /customers/7/d/6/lebourlingueurdu.net/httpd.www/wp-content/plugins/the-events-calendar/common/src/Tribe/Customizer/Section.php on line 204 Warning: count(): Parameter must be an array or an object that implements Countable in /customers/7/d/6/lebourlingueurdu.net/httpd.www/wp-content/plugins/the-events-calendar/common/src/Tribe/Customizer/Section.php on line 204 Warning: count(): Parameter must be an array or an object that implements Countable in /customers/7/d/6/lebourlingueurdu.net/httpd.www/wp-content/plugins/the-events-calendar/common/src/Tribe/Customizer/Section.php on line 204 Warning: count(): Parameter must be an array or an object that implements Countable in /customers/7/d/6/lebourlingueurdu.net/httpd.www/wp-content/plugins/the-events-calendar/common/src/Tribe/Customizer/Section.php on line 204 Warning: count(): Parameter must be an array or an object that implements Countable in /customers/7/d/6/lebourlingueurdu.net/httpd.www/wp-content/plugins/the-events-calendar/common/src/Tribe/Customizer/Section.php on line 204 Warning: count(): Parameter must be an array or an object that implements Countable in /customers/7/d/6/lebourlingueurdu.net/httpd.www/wp-content/plugins/the-events-calendar/common/src/Tribe/Customizer/Section.php on line 204 Warning: count(): Parameter must be an array or an object that implements Countable in /customers/7/d/6/lebourlingueurdu.net/httpd.www/wp-content/plugins/the-events-calendar/common/src/Tribe/Customizer/Section.php on line 204 Warning: count(): Parameter must be an array or an object that implements Countable in /customers/7/d/6/lebourlingueurdu.net/httpd.www/wp-content/plugins/the-events-calendar/common/src/Tribe/Customizer/Section.php on line 204 Warning: count(): Parameter must be an array or an object that implements Countable in /customers/7/d/6/lebourlingueurdu.net/httpd.www/wp-content/plugins/the-events-calendar/common/src/Tribe/Customizer/Section.php on line 204 Warning: count(): Parameter must be an array or an object that implements Countable in /customers/7/d/6/lebourlingueurdu.net/httpd.www/wp-content/plugins/the-events-calendar/common/src/Tribe/Customizer/Section.php on line 204 Warning: count(): Parameter must be an array or an object that implements Countable in /customers/7/d/6/lebourlingueurdu.net/httpd.www/wp-content/plugins/the-events-calendar/common/src/Tribe/Customizer/Section.php on line 204 Warning: count(): Parameter must be an array or an object that implements Countable in /customers/7/d/6/lebourlingueurdu.net/httpd.www/wp-content/plugins/the-events-calendar/common/src/Tribe/Customizer/Section.php on line 204 Warning: count(): Parameter must be an array or an object that implements Countable in /customers/7/d/6/lebourlingueurdu.net/httpd.www/wp-content/plugins/the-events-calendar/common/src/Tribe/Customizer/Section.php on line 204 Warning: count(): Parameter must be an array or an object that implements Countable in /customers/7/d/6/lebourlingueurdu.net/httpd.www/wp-content/plugins/the-events-calendar/common/src/Tribe/Customizer/Section.php on line 204 Warning: count(): Parameter must be an array or an object that implements Countable in /customers/7/d/6/lebourlingueurdu.net/httpd.www/wp-content/plugins/the-events-calendar/common/src/Tribe/Customizer/Section.php on line 204 Warning: count(): Parameter must be an array or an object that implements Countable in /customers/7/d/6/lebourlingueurdu.net/httpd.www/wp-content/plugins/the-events-calendar/common/src/Tribe/Customizer/Section.php on line 204 Warning: count(): Parameter must be an array or an object that implements Countable in /customers/7/d/6/lebourlingueurdu.net/httpd.www/wp-content/plugins/the-events-calendar/common/src/Tribe/Customizer/Section.php on line 204 Warning: count(): Parameter must be an array or an object that implements Countable in /customers/7/d/6/lebourlingueurdu.net/httpd.www/wp-content/plugins/the-events-calendar/common/src/Tribe/Customizer/Section.php on line 204 Warning: count(): Parameter must be an array or an object that implements Countable in /customers/7/d/6/lebourlingueurdu.net/httpd.www/wp-content/plugins/the-events-calendar/common/src/Tribe/Customizer/Section.php on line 204 Warning: count(): Parameter must be an array or an object that implements Countable in /customers/7/d/6/lebourlingueurdu.net/httpd.www/wp-content/plugins/the-events-calendar/common/src/Tribe/Customizer/Section.php on line 204 Warning: count(): Parameter must be an array or an object that implements Countable in /customers/7/d/6/lebourlingueurdu.net/httpd.www/wp-content/plugins/the-events-calendar/common/src/Tribe/Customizer/Section.php on line 204 Warning: count(): Parameter must be an array or an object that implements Countable in /customers/7/d/6/lebourlingueurdu.net/httpd.www/wp-content/plugins/the-events-calendar/common/src/Tribe/Customizer/Section.php on line 204 Warning: count(): Parameter must be an array or an object that implements Countable in /customers/7/d/6/lebourlingueurdu.net/httpd.www/wp-content/plugins/the-events-calendar/common/src/Tribe/Customizer/Section.php on line 204 Warning: count(): Parameter must be an array or an object that implements Countable in /customers/7/d/6/lebourlingueurdu.net/httpd.www/wp-content/plugins/the-events-calendar/common/src/Tribe/Customizer/Section.php on line 204 Warning: count(): Parameter must be an array or an object that implements Countable in /customers/7/d/6/lebourlingueurdu.net/httpd.www/wp-content/plugins/the-events-calendar/common/src/Tribe/Customizer/Section.php on line 204 Warning: count(): Parameter must be an array or an object that implements Countable in /customers/7/d/6/lebourlingueurdu.net/httpd.www/wp-content/plugins/the-events-calendar/common/src/Tribe/Customizer/Section.php on line 204 Warning: count(): Parameter must be an array or an object that implements Countable in /customers/7/d/6/lebourlingueurdu.net/httpd.www/wp-content/plugins/the-events-calendar/common/src/Tribe/Customizer/Section.php on line 204 Warning: count(): Parameter must be an array or an object that implements Countable in /customers/7/d/6/lebourlingueurdu.net/httpd.www/wp-content/plugins/the-events-calendar/common/src/Tribe/Customizer/Section.php on line 204 Warning: count(): Parameter must be an array or an object that implements Countable in /customers/7/d/6/lebourlingueurdu.net/httpd.www/wp-content/plugins/the-events-calendar/common/src/Tribe/Customizer/Section.php on line 204 Warning: count(): Parameter must be an array or an object that implements Countable in /customers/7/d/6/lebourlingueurdu.net/httpd.www/wp-content/plugins/the-events-calendar/common/src/Tribe/Customizer/Section.php on line 204 Warning: count(): Parameter must be an array or an object that implements Countable in /customers/7/d/6/lebourlingueurdu.net/httpd.www/wp-content/plugins/the-events-calendar/common/src/Tribe/Customizer/Section.php on line 204 Warning: count(): Parameter must be an array or an object that implements Countable in /customers/7/d/6/lebourlingueurdu.net/httpd.www/wp-content/plugins/the-events-calendar/common/src/Tribe/Customizer/Section.php on line 204 Warning: count(): Parameter must be an array or an object that implements Countable in /customers/7/d/6/lebourlingueurdu.net/httpd.www/wp-content/plugins/the-events-calendar/common/src/Tribe/Customizer/Section.php on line 204 Warning: count(): Parameter must be an array or an object that implements Countable in /customers/7/d/6/lebourlingueurdu.net/httpd.www/wp-content/plugins/the-events-calendar/common/src/Tribe/Customizer/Section.php on line 204 Warning: count(): Parameter must be an array or an object that implements Countable in /customers/7/d/6/lebourlingueurdu.net/httpd.www/wp-content/plugins/the-events-calendar/common/src/Tribe/Customizer/Section.php on line 204 Warning: count(): Parameter must be an array or an object that implements Countable in /customers/7/d/6/lebourlingueurdu.net/httpd.www/wp-content/plugins/the-events-calendar/common/src/Tribe/Customizer/Section.php on line 204 Warning: count(): Parameter must be an array or an object that implements Countable in /customers/7/d/6/lebourlingueurdu.net/httpd.www/wp-content/plugins/the-events-calendar/common/src/Tribe/Customizer/Section.php on line 204 Warning: count(): Parameter must be an array or an object that implements Countable in /customers/7/d/6/lebourlingueurdu.net/httpd.www/wp-content/plugins/the-events-calendar/common/src/Tribe/Customizer/Section.php on line 204 Warning: count(): Parameter must be an array or an object that implements Countable in /customers/7/d/6/lebourlingueurdu.net/httpd.www/wp-content/plugins/the-events-calendar/common/src/Tribe/Customizer/Section.php on line 204 Warning: count(): Parameter must be an array or an object that implements Countable in /customers/7/d/6/lebourlingueurdu.net/httpd.www/wp-content/plugins/the-events-calendar/common/src/Tribe/Customizer/Section.php on line 204 Warning: count(): Parameter must be an array or an object that implements Countable in /customers/7/d/6/lebourlingueurdu.net/httpd.www/wp-content/plugins/the-events-calendar/common/src/Tribe/Customizer/Section.php on line 204 Warning: count(): Parameter must be an array or an object that implements Countable in /customers/7/d/6/lebourlingueurdu.net/httpd.www/wp-content/plugins/the-events-calendar/common/src/Tribe/Customizer/Section.php on line 204 Warning: count(): Parameter must be an array or an object that implements Countable in /customers/7/d/6/lebourlingueurdu.net/httpd.www/wp-content/plugins/the-events-calendar/common/src/Tribe/Customizer/Section.php on line 204 Warning: count(): Parameter must be an array or an object that implements Countable in /customers/7/d/6/lebourlingueurdu.net/httpd.www/wp-content/plugins/the-events-calendar/common/src/Tribe/Customizer/Section.php on line 204